I am pleased to inform you that I am now able to again consult face to face with patients at my Chambers at the London Road Clinic. Changes I have made enable us to safely treat patients in a Covid-free environment. I have a clinical theatre with a bespoke air extraction system and I am able to again perform endoscopic examination of the ears, nose and throat as well as a full range of ENT investigations including hearing tests, balance tests, smell tests and allergy tests. Tongue tie division and sleep studies have also restarted. If you would prefer virtual consultations are still available as an alternative.
Welcome
I am a Consultant Ear Nose and Throat specialist based in the East Midlands, where I am the Chairman of the Leicester Nuffield Medical Advisory Committee, and senior consultant in the ENT department of University Hospitals Leicester.
For appointments call 0116 2388140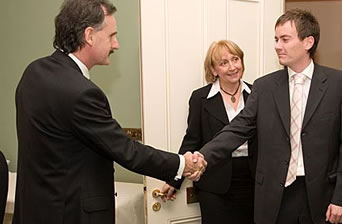 My private practice is based at the Leicester Nuffield Hospital, the Leicester Spire hospital, and my chambers at The London Road Clinic in central Leicester.
I specialise in the treatment of the whole spectrum of ENT conditions including nose and sinus diseases, voice and swallowing problems, chronic cough, deafness, imbalance, cosmetic & functional rhinoplasty, snoring and children's ENT.
If you have a problem with your ear, nose or throat I welcome any enquiries or questions you have and I can be contacted by via the enquiry form.